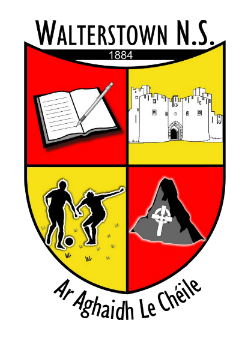 Our school crest is very important to us.
It has 4 quadrants, each representing a different part of our school.
One quadrant shows a book to show all the learning that we do in school.
The second quadrant shows children playing. This represents the pupils in our school having fun and playing happily with each other.
The third quadrant shows Walterstown Castle, this was an important castle but is not longer visible. We wanted to show some of the history of the area in our crest.
The fourth quadrant shows the Mass Rock in Marlogue Woods. We are a Catholic school and wanted to show this in our crest.
Our school motto is "Ar aghaidh le chéile". This means "Moving forward together" and we hope that we learn and improve together.