Amber Flag Committee 2021/22. Our committee work together to help promote positive mental health in our school.
The Amber Flag initiative is an initiative run by Pieta House which recognises the individual efforts of primary and secondary schools, youth reach, third level institutions, community groups, clubs and companies to create healthy, inclusive environments that support mental wellbeing. Positive mental health and wellbeing enables young people to lead fulfilling lives and is vitally important to their holistic development.
In order to promote positive mental health and wellbeing at Walterstown N.S., we have decided to take part in the Amber Flag Initiative. Successful completion of the Amber Flag initiative involves the whole school community coming together in order to create a safe, positive and healthy attitude towards our general physical and mental health and well-being.
Our aims and objectives are…
To create an Amber Flag notice board in the school that promotes positive mental health strategies and using the intercom to connect the whole school.
To hold a fundraising event for Pieta House and a Mental Health Awareness Day to promote positive mental health in our school.
To hold bi-monthly wellbeing activities school to raise awareness of positive mental health strategies.
November 2021: World Kindness Day
The Amber Flag committee have been busy preparing activities for World Kindness Day on November the 13th. A random acts of kindness competition has been organised where each class complete various kind acts such as leaving a positive note for a friend and helping out at home. Each class will tick off a checklist as they go. The committee members will be reading positive quotes about kindness and friendship over the intercom on Friday. They have also organised a small treat for each class.
December 2022: 12 Days of Christmas
The amber flag and active flag teamed up to run the '12 Days of Christmas' physical activity challenge. In the month of December, a time where we can often be inactive due to the rain and darkness, we made sure to keep active by doing 12 activities each morning including jumping jacks and burpees. This helped keep our head and hearts healthy!
February 2022: Friendship February
The committee organised a friendship focused event for the month of February. A poetry contest based on friendship was organised with one winner per class. A friendship tree was constructed by Le Chéile and displayed in the main hall where all classes could add leaves and love hearts every time they completed an act of kindness or saw somebody being kind. Each class were given a random act of kindness checklist to complete.

In addition, to celebrate Friendship February, all the children in Walterstown NS took part in a poster competition.

The children worked really hard designing posters and writing friendship poetry. We were blown away by their efforts and found it hard to choose winners! Here you can see a picture of the boys and girls who won the competition. Scroll to check out their fantastic posters!
April 2022: Mental Health Awareness Day
Just before the Easter holidays the Amber flag organised Yoga workshops to wind down after a busy term. Each class really enjoyed the different poses, mindful breathing and the movement dances all fantastically lead by Mrs. Mansworth. Namaste!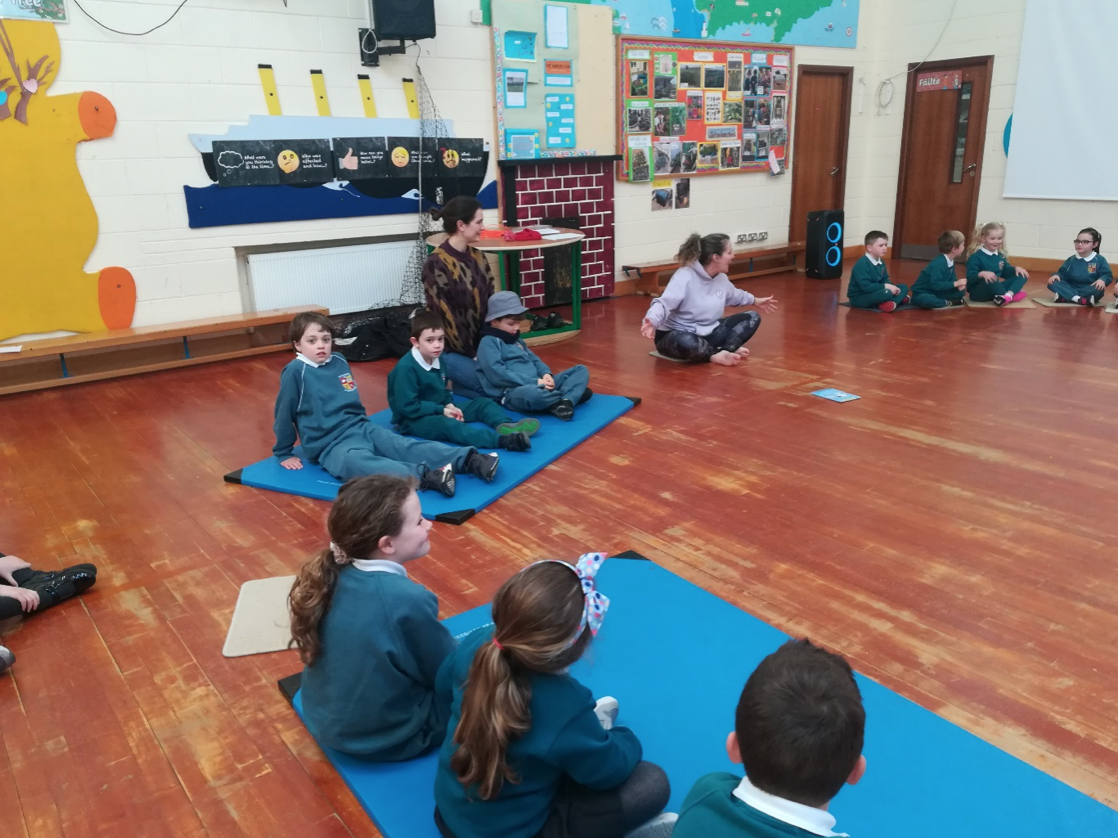 The committee held a Danceathon in aid of Pieta House. All classes danced outside copying the moves of the Amber Flag Committee. Students donated to the charity and we raised €105. Well done everybody!